In 2007, CARDTS initiated SAMADAAN, a home for children affected by HIV, in Kunigal. This home caters to children who are non-positive but are orphaned by HIV. The organization is committed to provide care and support to children and educate these children. It is planned to Provide Care and educational support to atleast 25 boys and 25 girls through this home. Presently, the home houses 60 children 33 boys and 27 girls who are in the age group of 6 to 18 years.
Presently the girls are housed in the building specifically planed and built with the help of doners from various walks of life. CARDTS has plans to build a residential block for boys.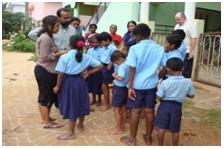 While a lot of the contribution for the first block came from individual doners who have been associated with the work undertaken by CARDTS during the last dacade HUGO REITZEL having its establishments in Kunigal supported construcition of the multipurpose hall. Sri Kshetra Darmasthala through its Sri Kshetra Gramabhivrudhi Yojane contributed generously to the project.